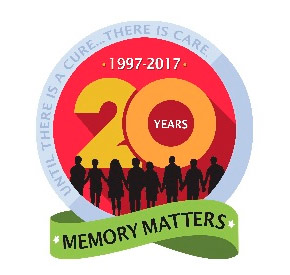 Mission
Memory Matters is a local not-for-profit center of excellence which improves the quality of life for persons with dementia and their families, providing resources, support, respite and adult day services with compassion and dignity.
History
Memory Matters was founded in 1997 as Alzheimer's Respite & Resource. It was originally funded by a Brookdale Foundation grant to create a respite program for patients and caregivers. In the beginning, the program was generously hosted at St. Luke's Church and operated only one half-day a week.
Today, Memory Matters offers Day Programs five hours a day, five days a week -- Connections for early-diagnosis participants, and Compass for mild- to moderate-diagnosis participants..  The fee is $70 a day, which includes a healthy Mediterranean-inspired lunch. We offer free counseling through peer support groups, individual sessions, and crisis Hotline. Brain Boosters, an 8-week brain training course, is offered periodically for our Lowcountry community for a modest fee. Purple Angel supplies free expert sensitivity training regarding memory impairment to business and groups.  For more information, call 843-842-6688.
We continue to be a volunteer-driven organization with more than 100 volunteers who serve on our community Board of Directors, work in the Day Programs, raise funds, and serve as ambassadors in the community.
In 2009, we changed our name to Memory Matters. We moved into a state-of-the-art facility that is wholly owned. Our name change to Memory Matters reflects the fact that people with ALL types of cognitive impairment are served, not just Alzheimer's disease.
---
Read a testimonial from Pat:
It has been just over a year since I reached out to Memory Matters for guidance.   At that time I was trying to understand symptoms my husband was experiencing as a result of two strokes he had had just a year apart.   Without a support network, I was confused and flying by the seat of my pants to understand and cope with the new  limitations in the person I love and had been married to for over 40 years.   I felt I was failing him and was swirling in the vortex of my own anxiety and helplessness.   How well I remember making that call to Memory Matters and the first time we met with you.  You were reassuring and calming even before we met in person.   In that first meeting and others that followed, you gave us a soft place to land and a caring and open environment where we could just be ourselves and let it all out (including the tears) as we tried to cope with and learn about our new reality.
I'm writing today to let you know that the investment you made in us has paid off.   As a result of your initial help and after getting a grip on our emotions, we were able to create a game plan aimed at the following:
Creating a daily schedule that routinized my husband's activities and enabled him to own himself, reminding him of all he CAN do and regaining much needed confidence.

With the help of his PCP, evaluating his specialty providers with the goal of devising an integrated, involved and committed care team that gives him the greatest opportunity for success going forward.

Re-engaging and exercising his brain in a variety of ways to bolster his memory and problem-solving skills.
There have been two critical components in taking these steps forward.  One is to understand that while we may not be able to control the dynamic nature of his illness, we can manage how we react to it.  Secondly, we remind ourselves that even though he has some limitations, we can find new approaches to enjoying and actively participating in the things we love like travelling and learning.
One year later and by embracing those beliefs, our life is full and active.   We go out to dinner; travel locally, nationally and abroad; immerse ourselves in courses offered through USCB's Osher Center for Lifelong Learning; go to movies and concerts; and socialize with  family, friends and neighbors.   This sounds like a pretty normal life, doesn't it?  When we first met you, I never imagined we'd be in such a good place today nor can I adequately express how thankful we are for your caring and helpful advice.    We remind ourselves every day how much we have to be grateful for--one of your first and best pieces of advice.  
In that spirit, we want you to know how grateful we are for you and Memory Matters.   Thank you for offering a helping hand as we stumbled through those scary and challenging weeks and months.   You and Memory Matters have made a huge impact on our lives and we wanted to be sure you know that.